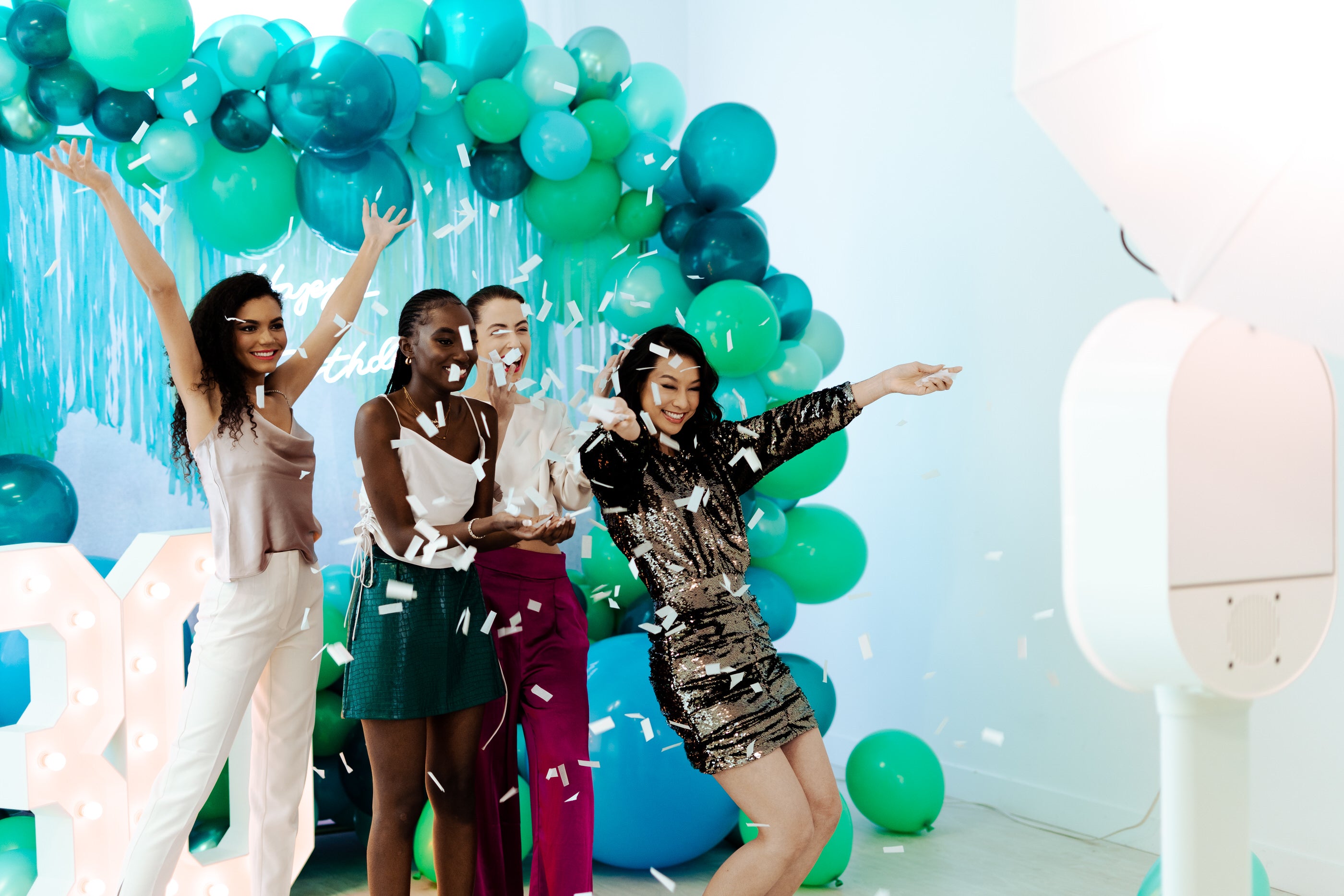 The next generation of DSLR photo booths has arrived! 
Introducing the Guac Booth, a reinvention of the classic DSLR photo booth, combining the powerful Canon M50 Mark II camera with a beautiful studio flash and the ease of our Salsa iPad photo booth app. 
It also comes with Chips! A beautifully designed printer + stand that matches the Guac Booth perfectly, and hides a DNP DS620 dye sublimation printer which can be wired directly into the booth. No need to stress over wireless printing ever again. 
Why choose a DSLR photo booth? 
DSLR photo booths have often been the go to choice for many photo booth owners. This is very much down to their reliability and durability as well as their high quality photo capabilities. Even better, they are wired directly to your printer, allowing them to produce photos with amazing quality which print immediately without the lag time experienced with wireless printing options. 
They are always a great option for the luxury wedding market as well as brand and corporate events. There's nothing better than seeing clients proudly showing off their photo booth photos at an event.
There are many options of DSLR photo booths to choose from. Whether that's a retro style enclosed booth or a more modern open air style. More often than not, these styles of DSLR booths have always been run with complicated Windows-based software, but the Guac Booth is ready to change this standard forever.
Why choose the Guac Booth?
The Guac booth is pretty revolutionary if we do say so ourselves. 
Combining a DSLR camera with an iPad app has often presented difficulties; The Guac Booth has taken the headache out of this and seamlessly integrated the two thanks to its clever "Guac Brain". Utilizing our easy to use Salsa iPad app, you're able to create beautiful events with all the features you'd expect to find on an iPad booth; including boomerangs, digital masks, and filters, as well as the ease of setting up social sharing, emails, sms messages, and instant live galleries. And let's not forget Salsa's built in template editor with hundreds of photo templates and overlays for you to choose and customize. 
The Guac Booth and Chips itself is also seriously compact. Setting up the booth is a breeze. Its interlocking pole system allows you to assemble and be ready to go in no time at all, taking the stress and frustration out of equipment set up and tear down.
Its modern minimalist looks ensures it won't distract from your client's event, but rather integrate seamlessly into the space. Or make it the center of attention by having it wrapped with your client's branding to provide the ultimate branded photo booth experience for them.
And once your event is over, Guac and Chips breaks down quickly into two small cases for easy portability between events. The cases fit into the trunk of the smallest of vehicles so you can leave your heavy trailer behind and literally run your business from the back of your car. 
High quality, ease of use, and portability all available to you in one incredible booth. 
Why Photobooth Supply Co.? 
When choosing a photo booth, the focus can often solely be on the equipment, but we all know that setting up and running a business is so much more than the booth you offer to your clients. 
Here at Photobooth Supply Co., we want to help you every step of the way by not only providing you with the highest quality hardware and software, but by being there for you when it matters most.
When you purchase a booth from us you receive more than just the products on the invoice. We want you and your business to thrive which is why we provide the resources for you to get booking events even before your booth has arrived.
We create beautiful marketing materials for you to use when building your website or updating your social media. The marketing materials are updated regularly so you'll never be short of beautiful images of your booth to share with your clients and inspire bookings.
Want to learn the software before you've even got your booth? No problem. Our comprehensive onboarding sessions are available for you free of charge. Learn the best tips and tricks on how to create beautiful events tailored to your customers needs. Our onboardings are recorded and sent to you after each session you attend, so you can watch again anytime. 
Our Salsa software also provides a treasure trove of resources for you to use including our ever-popular Photobooth Academy. Whether you're just starting out your business or you've been running one for a while, there's something in the Academy for everyone. Learn it all from how to price your photo booth, market yourself on social media even how to hire your first attendants. Our team's years of experience is right at your fingertips. 
And once your business has taken off we'll be your biggest cheerleaders. Struggling to figure out your ideal pricing structure? Maybe you're not sure how to book your first events. Our expert support team is available during the week for our popular strategy calls to help you build the photo booth business you've always dreamed of. 
And with seven days a week tech support and a comprehensive support site, there's always a resource available to you to address your questions or queries, no matter how big or small. 
Are you ready to join our community of successful photo booth owners? 
If you have any further questions about getting started, our team is more than happy to help! Reach out to us at sales@photoboothsupplyco.com or request a demo.