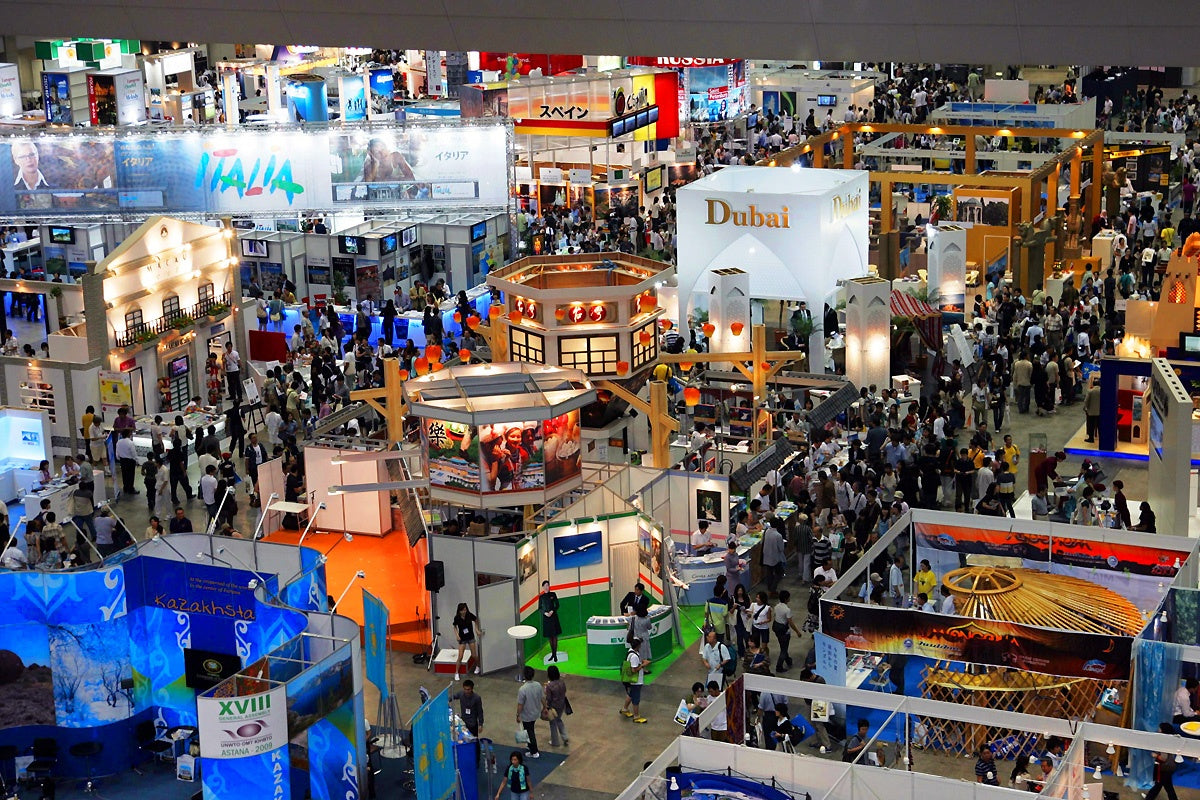 Tips to Win With Your Photo Booth at Your Next Trade Show!
Brandon Wong is an accomplished entrepreneur and has an excellent perspective to share regarding how to get everything you can from a new photo booth experience. He teams up with seasoned photobooth expert Catalina Bloch in a PBSCo webinar to bring us some great advice to assist you when entering the world of trade shows.
Location
One of the first things he shares with us is about the importance of picking a location for your set up at the show. Setting up in the right area can have huge impact on how many people you are able to wow at the show!
There are benefits to many locations in any venue, it's really about getting in there early for a reservation and exploring how these prime spots can best work for you.
Brandon shows us how choosing a spot close to any entrance or exit will bring a ton of attention to your set up and guarantee plenty of foot traffic. It is important to keep in mind that these spots are highly sought-after and you will want to get your bid in early for a chance at these.
Another strategy to consider when choosing your location is to take into account what other vendors are around you. For instance, if you are able to get a spot close to a larger, big-ticket vendor that will naturally get a lot of scrutiny, you can piggyback off of that attention. They have a lot more marketing power than you and you can definitely use that cross-promotion to your advantage.
When choosing your location, those surrounding you may be more important that you think. Think about the target audience for your own products/services as well as the other businesses attending the event. It is wise to place your set up in the same eye line of those with similar customers.
Here are some additional starter tips they share with us:
Look into a spot next to the restrooms - this may sound odd, but everyone's got to go at some point!
A spot at the end of the line is great as your set up will not be boxed in, allowing more room and greater ease for visitors to enter your booth, and will also give you aside without a neighboring business for more visibility. End caps are definitely worth the extra bit of money.
Target Your Audience
There are endless ways to appeal to your specific clientele. While associating yourself with similar vendors and businesses you compliment when finalizing your location is a great place to start, there is so much more opportunity to reach out to your best potential customers.
Brandon elaborates on this by sharing the details of one of his own trade show setups. For instance, he and Cat share a certain expo experience in which his team knew that their primary leads were going to be female photographers. With this information, they designed the backdrop, accent furniture, and decor in a beautiful Morrocan, boho-type of style with those consumers in mind.
"Even if we dress up the booth, if people resonate with your decor, they are likely to resonate with your brand as well."
At the same time, they remind us of the importance of staying true and consistent with your 'brand identity' while adapting to the environment, audience, etc.
Design
First and foremost, when designing our stations, we are all more than conscious of our budget!  Not to fret, this is actually a really fun opportunity to exercise your crafty creativity to put together an engaging display.
Cat and Brandon discuss the many ways in which they find inspiration for their station designs. One of the easiest things you can do is pay special attention to different window displays at popular and successful stores. That's right: window shop to your heart's content. Employees for these chains are usually stuck with a very minuscule budget, dusty mannequins, and old props to create an enticing atmosphere, and there are a lot of ideas to be had from what they've come up with. These speakers share many examples of store windows that utilize balloons and even post-it mirages to spice up their appearance.
Another great source of inspiration to give a try is as simple as reviewing any online presence showcasing past events and brainstorming off of the setups from others in your field. YouTube or Google search wedding, photography, entertainment expos and you're sure to be gripped by realistic, eye-catching ideas from these past cases in no time.
Bonus Tip: Look for the authentic, amateur videos to see what really caught the crowd's attention! Professional videos will showcase everything in it's best light but may not be totally reflective of what was a real hit.
Finally, Brandon Wong leaves us with one final piece of advice when preparing for any trade show or expo, emphasizing,
Competition, budget, audience. "All this research is so SO important before going in for a show."
Be sure to explore Photobooth Supply Co's website for more insider tips like this!
---
Want to learn more tips and tricks on how to have a successful photo booth business?
Check out our other blog posts and our 26-Episode Video Series where you can hear from real PBSCO Photobooth owners on how they've led their businesses to success!