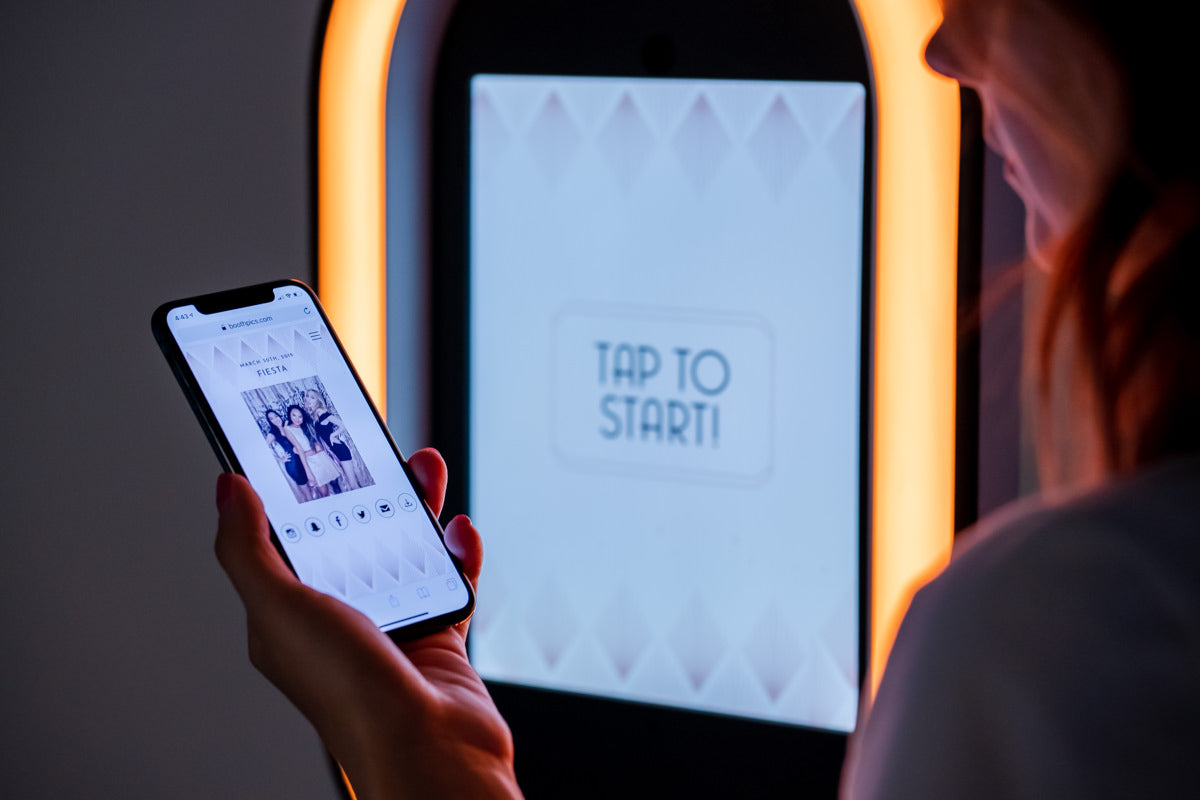 The Unexpected Marketing Tool Every Photographer Needs
How do you market yourself as a wedding photographer while you're documenting the big day?
I always ask this question to my peers and their answers are always the same: "I don't."

I can see why. We're busy at weddings. We're shooting this, then shooting that. By the time you catch your breath, the day is over, and the guests are gone.
Those photos you worked so hard for?
Hardly anyone outside of the bride and groom will see them, and even if they do, rare is the couple who posts them and tags you in them for credit.

But what if there was a way to reach every single wedding guest?
Not only that, but to get their phone numbers, e-mails, and have them follow you on Instagram?
What if you could provide services outside of wedding photography to all these people?

Cue the Salsa Photo Booth.
Think about this ...

Every single guest takes a photo in a photo booth. When they do, they leave with a parting gift, a picture that you can easily design to include your company's branding.
If they want a digital copy, they need to enter their phone number or e-mail. When you send out their photos to the listed phone numbers and e-mails, you have another chance to customize the outgoing message to promote your company.
See the example below:

We incentivize guests to visit your Instagram by posting a sneak peek from the wedding day.
Who can resist that?
It's also conveniently located next to the actual link to their content, and in some cases, you can require visitors to enter their e-mail to access it.
Guess what?
With a few easy steps, you now have hundreds of e-mails, phone numbers, and Instagram followers from the wedding you just shot. Multiply that by how many weddings you shoot in a year. You'll find the numbers staggering.
How would you like 4,000 - 6,000 organic Instagram followers a year?

On top of that, each image hosted on the web is branded to your company. You can place a call to action there, which can encourage people to book you for a family session, photo booth rental, or whatever their photo-loving heart has in mind.
You have now given everyone a digital business card and offered them immense value at the same time.

Modern photo booths like Salsa from Photobooth Supply Co make this branding and event customization super simple with easy to use software. 

Want to amplify the impact? 
Salsa large white spaces that allow you to apply your company's branding for a totally customized photo booth. We love the idea of stickers (check out Sticker Mule!). I always suggest including your Instagram handle, like the example below:



You can also customize the interface of Salsa to create a fully immersive branding experience. A few quick clicks in Photoshop and you can upload your designs straight into the Salsa app.

Not sure what to do with the e-mails and text messages you now have your hands on?
Check out services like Mailchimp and EZ Texting. They're used by major brands everywhere to reach business audiences, and make it a snap to reach your subscribers with enticing offers and events.
Not sure what to write? Here are a few ideas:

Print Sale Announcements

Valentine's Day or the holiday season coming up? Let your thousands of subscribers know how they can turn that gorgeous shot from the wedding they attended into a memorable, beautiful gift - for a special discounted price. 

Promote Family Sessions

Not everyone at a wedding is engaged, but most of them have family (and never, ever discount the love for the furry family members). Make it clear to your guests that you do more than just shoot weddings, and watch your calendar fill up. I quickly found myself booked up on Monday - Friday, the days I would otherwise have been sitting around doing nothing!

Promote Headshots and Portraits

People need updated headshots and portraits - especially if you're showing off what a great headshot could look like. Whether they need a portrait for LinkedIn or Tinder (no, seriously), promote your gifts as a headshot and portrait photographer and get some (photoshoot) dates of your own booked.

Ask For Reviews ⭐️⭐️⭐️⭐️⭐️

Lacking reviews? Don't be afraid to ask for them. Having dozens of five-star Yelp, Google, and WeddingWire reviews have played a huge role in reassuring couples about my talents and trustworthiness. It's amazing how a little trust results in fewer questions about services or pricing. And don't forget about the guests in attendance from your event - there's no harm in reaching out to everyone present and respectfully requesting a testimonial!

Photo booths are unquestionably a great marketing tool - and with great marketing tools comes an increase in your revenue.
Check out our blog posts here to add fresh pricing strategies for your business, and learn how to integrate them into every aspect of your services.