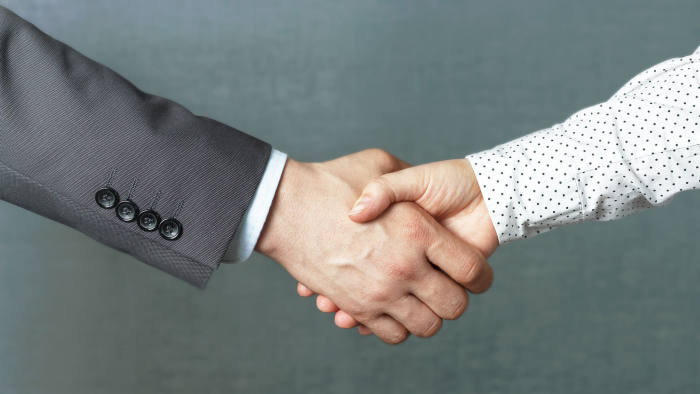 How to Network Your Photo Booth Like a Boss in 2020!
Networking is a crucial part of owning a photo booth business. After all, you want people to be talking and thinking about you and your photo booth business.
So, how do you network?
Everyone has varying levels of networking experience, but regardless of if you're a networking newbie or a networking pro we have some tips to show you how to network your photo booth!
Positivity
Be positive! I know it may sound simple, but it's also the most difficult to change. Some of us aren't positive people and while that's okay in our personal lives, you need to make a change if you want to have success while networking with others.
Give compliments, be kind, but also be genuine.
I think we all know of a person who enters the room and immediately the mood changes.
Don't be that person, alright?
Guests smiling before using the Salsa Photobooth.
Be Interested, Not Interesting
Alright, you can be an interesting person. As a matter of fact, you should be.
But, try to save that for once you've made the connection.
What I mean is that when you're networking with someone new, it's important to be interested, not interesting. Ask them questions about their life, their work, and/or their company. People love to talk about themselves and love to be recognized for their work even more.
Plus, it'll give them something to talk about and while you're speaking with them. You can pick up on their interests and hobbies and continue to ask about them throughout the conversation.
Research People Beforehand
So, yeah ... this one sounds a little stalker-y, but there's definitely a correct way to research people.
If you know who you're going into a meeting with, research them. Look them up on Facebook, Instagram, or LinkedIn. When you see someone's social media profile, it gives you a good idea of their interests and who they are as a person.
But, don't be creepy.
If you see that someone adores dogs, find a way to bring them up naturally into the conversation. Do not say, "Hey! I saw on your Instagram that you adore dogs! Me too!"
That's way too forward and will ruin most chances of networking with them both now and in the future.
Build Bridges
When you're speaking with someone new, try to find something that you're both interested in. If you've done the research, as we mentioned before, this will be a little easier.
Once you've found a common ground between you and the person you're networking with, build upon it! 
The more bridges you build, the more trust you also build. 
You're not going to be 100% compatible with everyone, but, as we've mentioned, try to find some sort of common ground.
Network With Vendors
When you've booked a wedding, for example, and it's time to sit down for dinner - take advantage of this! 
You should be speaking with the other vendors who are there and trying to build new relationships.
Salsa Photobooth.
With that said, be smart about who you dedicate your time to. Speak with the venue manager, the wedding planner, or the photographer. Why? These are some of the most important people at an event (especially a wedding!) and if you can stand out to them, they may recommend you to someone in the future.
You can talk with the baker as well, for example, but just know that it probably won't help your business simply because most people look for a venue, a planner, and a photographer before anything else. You want to be in the minds of the first people involved in an event.
It's more likely that they'll recommend you that way!
Your Day-to-Day
Make sure you're talking about your business and what you do throughout your day-to-day life. But again, don't be obvious.
When you're at the salon, the doctor, or even the dentist, talk about what it is that you do. If you sell yourself in a proper way, you may be who they call when they're looking for a photo booth for their next event. Or maybe they'll recommend you to a friend.
Either way, like we said, be casual and don't be overwhelming or too sales-y. 
In general, never ask for anything.
It's just tacky.
Thank You Notes
When someone does refer you, make sure that you show some sign of appreciation. Send them a handwritten note, a small gift, or a gift card for coffee or movie tickets.
It doesn't have to be something big, but it'll make a huge impact.
When people feel appreciated, they'll remember who made them feel that way. Be kind, show appreciation, and it'll only bring you more business in the long run.
---
If you follow these easy tips on how to network your photo booth, you'll be networking like a boss in no time.
Looking for more information on networking? Check out this book, "How to Win Friends and Influence People" by Dale Carnegie.
Want to learn more tips and tricks on how to have a successful photo booth business?
Check out our other blog posts and our 26-Episode Video Series where you can hear from real PBSCO Photobooth owners on how they've led their businesses to success!