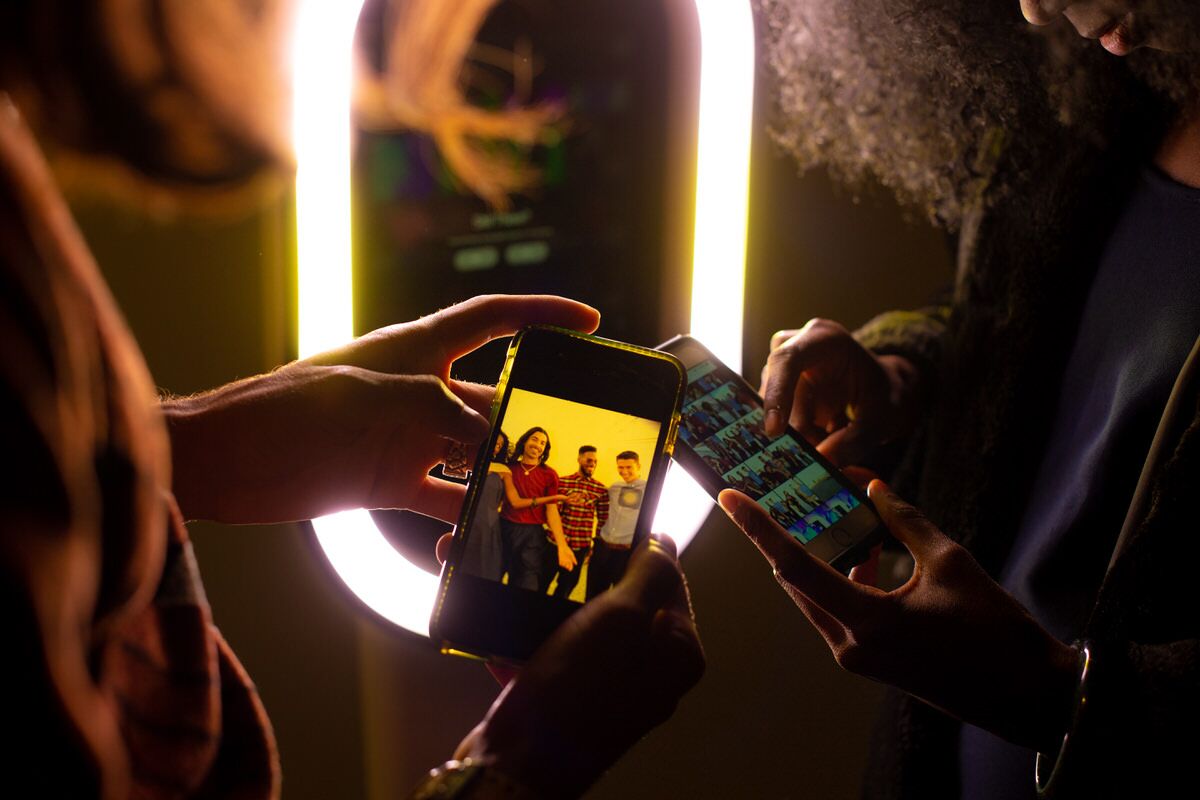 Growing Your Photo Booth Business Made Simple: 8 Tips You Must Know!
You've established your photo booth business, but it seems like you've hit a dead-end, right? Maybe you don't feel like you're growing as much as you used to or you don't know what you need to do to stay relevant in the market.
Don't worry, we're here to help! With these simple to follow tips, you'll be growing your photo booth business in no time!
Choose the Direction for Your Brand
It's important that you have chosen a direction and goal for your brand. What is it that you want to achieve with your photo booth business? Do you want to shoot weddings? Corporate events? Social events?
If you're still growing you need to dial into one of these markets. It's very difficult to grow when you're trying to advertise to all of the different markets. 
Friends looking at photos they just took on the Salsa Photobooth
Choose a market and stick with it. Work with that market and work with that niche until you start to get a good number of Google, Yelp, etc. reviews. Reviews build credibility and will get your more bookings overall. But, in order to get those good reviews, it's important that you're the best in your niche.
Marketing Materials
If you haven't updated your marketing materials in the last six months to a year, it's time to do so. 
Brochures, promotional videos and photos, your online presence - all of these count as marketing materials. After all, it's showing your brand and what it is that you do.
Additionally, all of your marketing materials should be well designed, easy to read and look at it, and just beautiful overall. If you're not a great graphic designer, that's okay! Hire someone to design your marketing materials for you. You may pay a bit upfront, but it'll be worth it for your company in the long-term.
Be Quick and Responsive
Being quick and responsive to client's inquiries is a completely free way to stand out from your competitors.
Your goal should be to respond within five to ten minutes after receiving a lead from your website. When you're able to respond quickly and efficiently, clients will immediately take notice and want to work with you as they know what they can expect from the get-go.
When you respond to a client's inquiry, you should be responding with the following:
Price quote
Brochure
Video or Photo link to your work
This is all super pertinent and important information that will make you stand apart from the rest. If you want to make your life a little easier, having a CRM, like Pixifi, will speed up and automate a lot of this process. You can check out this article about automating your workflow process!
Once you've responded to a client, but they haven't gotten back to you, you should follow up. Our general rule is to follow up five to six times before considering the lead is dead. Don't follow up every single day, space it out. It's better to try a couple of times per week for a few weeks. This will ensure that you don't "kill" the lead too early.
Update Your Social Media!
Interacting with your followers is a great way to bring in new clients.
You should try to post on social media at least once or twice per day. This will show your followers that you're active, easy to reach, and relevant. If you're comfortable with it, mix your personal life in there a little bit too! Sharing photos of yourself, your office, or your family will make you seem more relatable and your followers will grow a closer attachment to you.
Don't go overboard, though! It should be a healthy mix of personal and business and, personally, we'd opt for a little bit more business than personal.
Salsa Photobooth
If you're not able to post every day, hire someone to do it for you. It's not too expensive, but it'll make a difference in the long run.
Plus, the more content you have online, the easier it is for potential clients to find you.
Send Gift Cards as a Thank You
After you've had the event, you should be sending out handwritten thank you cards with at least five brochures. The Starbucks, movie theater, or other gift cards are 100% optional, but again, it's a great, cheap way to make you stand out.
Don't forget the brochures!
The extra brochures are super important in case someone asks about your work. Your client will have an immediate and easy way to showcase and pass along your information. 
Additionally, you could also include referral gift cards. Something along the lines of, "Give this card to a friend and if they use it, you both get $100 off!"
This will help bring new clients as well as retain repeat clients.
Don't miss this opportunity!
Create an Experience
Make sure that you provide an amazing experience for your clients. Show up early, be professional and prepared, and make sure you're approachable.
Having something like an Event Checklist is also a great idea. Not only will this ensure that you're providing a consistent experience to every client, but it can also be used as a selling point. This way clients know that you're serious about your reputation and the experience you provide.
You can read more about creating a 5-Star Experience at every event in this article here!
Upselling
Find unique features that you're able to upsell, whether that's prints, scrapbooks, custom slides, whatever you offer! And when you're going to upsell, assume the sale and ask for it. 
Guests taking a picture on the Salsa Photobooth
Why? Because if you show its perceived value, most people will say yes!
By upselling just $100 per event, assuming you have 20 events per year, you've scored yourself an additional $2,000 per year! Now imagine if you could upsell $200 or $300 per event ... see what we mean?
Build Venue Relationships
Venue relationships are the best client relationships you could have in your photo booth business.
Why?
Because if you can develop at least one, strong venue relationship, you're going to book so much more and do so more consistently!
Create gift baskets for venues and call around and see if any of the venues will meet with you. Don't get discouraged if they say no, the majority will at first. Just make sure that you let them know what it is that you do, show them proof of the amazing experiences you provide, and let your work do the talking.
---
And that's it! We hope that these easy to follow tips help grow your photography business!
Want to learn more tips and tricks on how to have a successful photo booth business?
Check out our other blog posts and our 26-Episode Video Series where you can hear from real PBSCO Photobooth owners on how they've led their businesses to success!