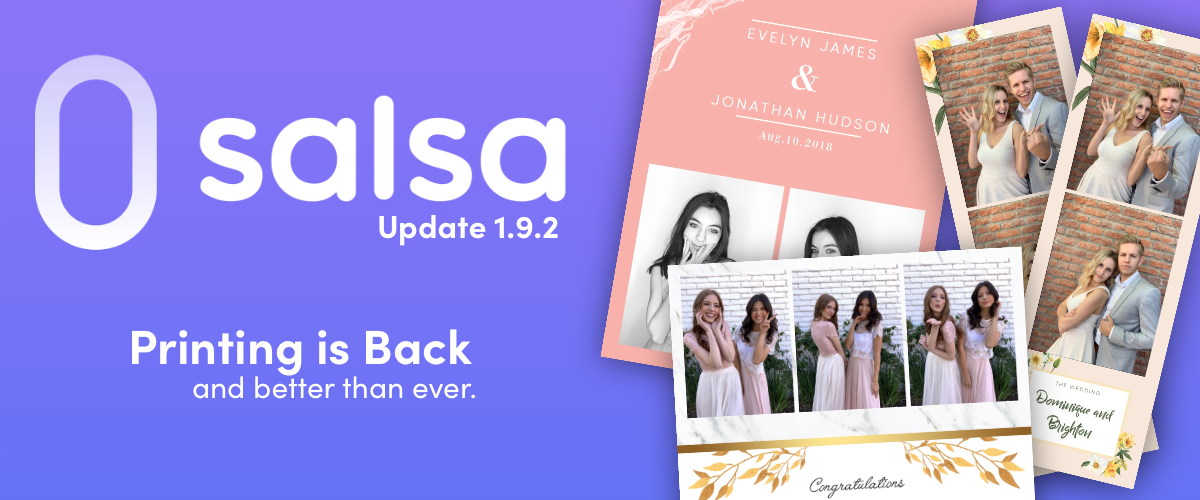 Salsa App 1.9.2 Update: Printing is back and better than ever
Printing (with AirPrint servers) is back, baby! Technically, printing never left, but it was certainly more difficult (read: impossible) to print using an AirPrint server – or, as it's more colloquially known, dongles.

That said, we are excited to release Salsa 1.9.2.

Now that you can print until your heart's content, let's go over some of the AirPrint features that will keep your event within budget, and prevent you (or your printer) from getting caught in a jam.
Print single 4x6 images or multi-shot templates in 2x6, 4x6, or 6x6*
Enable the Print Button to put your guests in control or disable it to go full automatic
Don't want guests to print a copy for everyone at the party? Set the maximum number of prints per each session
Have an agreement with the client for a certain number of prints? You can set the maximum number of prints for the whole event
Have a permanent install or a drop-off? Enable auto-print and number of copies with each shot
Select your preferred printer from the event settings on the Salsa app so that you're ready to rock when you roll in
*AirPrint is available for Salsa Pro subscribers. Due to AirPrint's immense flexibility and ability to work with various combinations of third-party hardware, some configurations of printers and AirPrint dongles might require additional hardware support from third-party manufacturers.

Update is now available in the App Store.

For the best performance, make sure you're running the latest version of iOS - 13.5.1.

You can contact us at support@photoboothsupplyco.com if you have any questions or need support.