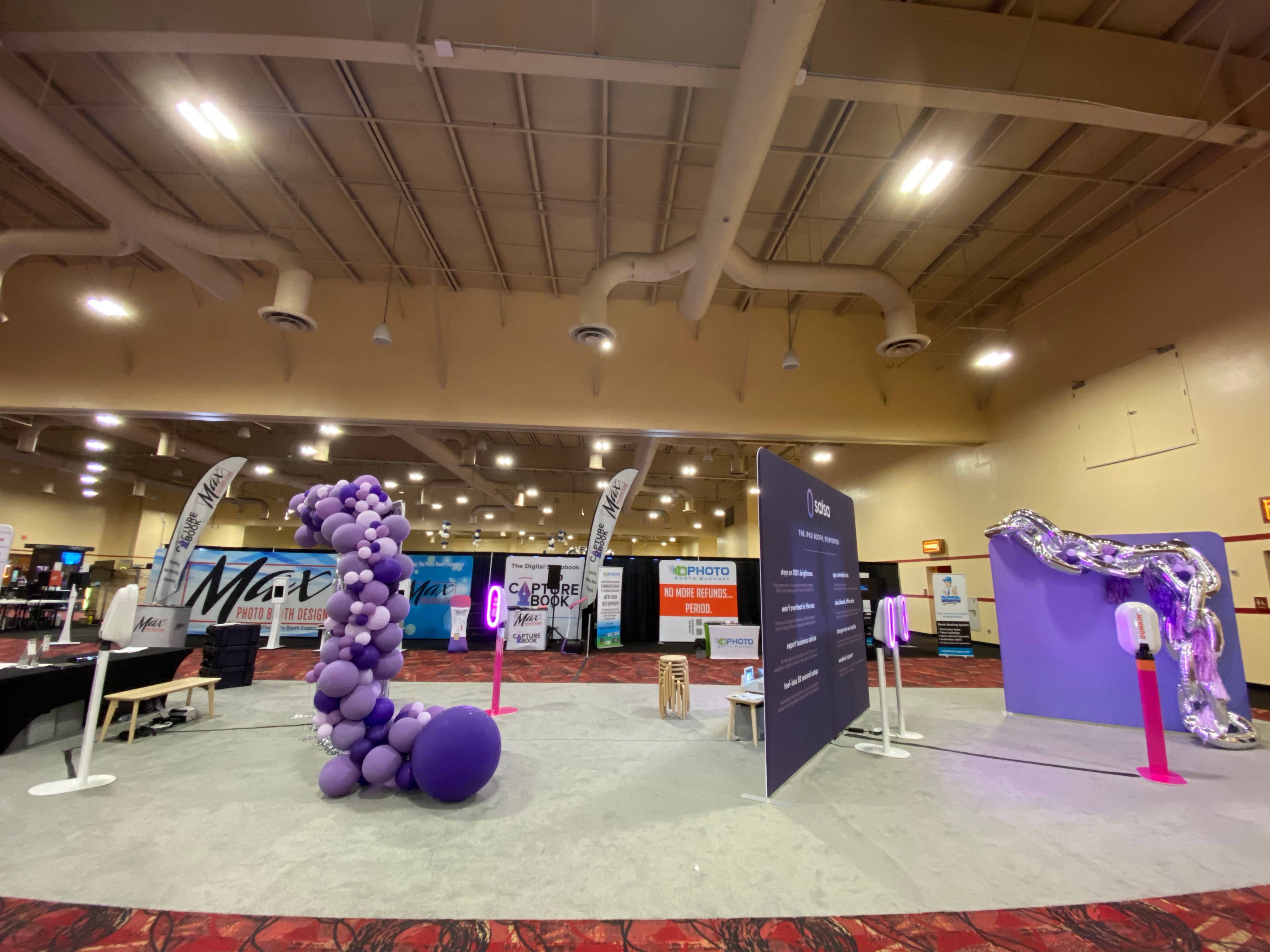 Tradeshow Tips: How to Maximize Your Photo Booth Design and Location!
If you're reading this, I'm guessing you're considering attending an expo, right?
Whether it's a wedding expo, photography expo, photo booth expo, or anything in between, we have some tips to help you maximize your time at the expo.
After all, the point is to earn more clients, close more bookings, and make more money!
Location
So now you have to pick your location at the expo. After talking with many of our PBSCO Photo Booth owners, the general consensus is that the closer to the entrance the better.
If you can, try to get a booth in that general area. This way, when expo attendees enter, you're one of the first things that they'll see.
The one downside to this, however, is that it can be really difficult to get these spots because they usually reserve them for past vendors that have returned over the years.
Salsa Photobooth
You may be able to get your hands on one of these booths if you register early, so if there's an expo you're considering attending, register ASAP!
If you're unable to get a booth located near the entrance, that's okay. Like we said, you may have to attend a few more expos first. Regardless, there are some other good locations to consider.
Vendors You Work With
If there's another vendor that you often work with that's attending the expo, try to set up next to them. That'll allow you to drive traffic to them and vice-versa. 
This is especially great if they're an established business with a good reputation. You're essentially riding on their marketing and reputation. They'll also likely have a line of attendees wanting to talk with them and what better way to kill time in line than with the photo booth next door? 😉
The Bathrooms ...?

Alright, so this one is going to sound a little strange at first, but trust us! It makes sense.
Attendees, at some point, are going to have to use the restroom, right? Being close to the restroom will give you almost as much visibility as being located near the entrance. 
Endcaps
Regardless of where your booth is, try to ensure that you have an endcap location. What we mean by that, is that you should aim to be at the end of a row or on a corner. 
Why?
Well, due to the nature of having a photo booth, you're going to need more space. Being confined between two walls can make it difficult and intimidating to draw people in for a photo. Having an open space where attendees can, comfortably, try out your photo booth is going to work wonders.
Design
The next step is the design. You want to draw people in and get them to try your photo booth. 
How do we do this?
An enticing, fun, and unique booth design.
Salsa Photobooth
First, make sure that you have a general idea of the expo's demographics. If 99% of the expo's attendees are women, for example, having a more feminine design may be a good idea. Alternatively, if it's primarily a DJ expo, having lights and lasers incorporated into your design wouldn't be a bad idea.
After all, you want to show value to the attendees that are trying out your photo booth.
If you're not sure, take some time to look on Google and YouTube for that particular expo event. When you see videos of people at the event, you should get a good, general idea of what to expect. The best videos, weirdly enough, tend to be the non-professionally shot, shaky, iPhone videos that will give you a more authentic idea of the event.
When it comes to designing your booth, not everybody has a huge budget.
One idea that you could use is to go to malls actually and look at different store displays. These displays are made to be extremely engaging, really creative, and make you stop in your tracks. A lot of times, these displays are made with a small budget and with an even smaller space.
---
We hope this article will help you to dominate your tradeshow booth's design and location! Want to know how to price your photo booth at your next tradeshow? Check out this article here to learn more!
Want to learn more tips and tricks on how to have a successful photo booth business?
Check out our other blog posts and our 26-Episode Video Series where you can hear from real PBSCO Photobooth owners on how they've led their businesses to success!