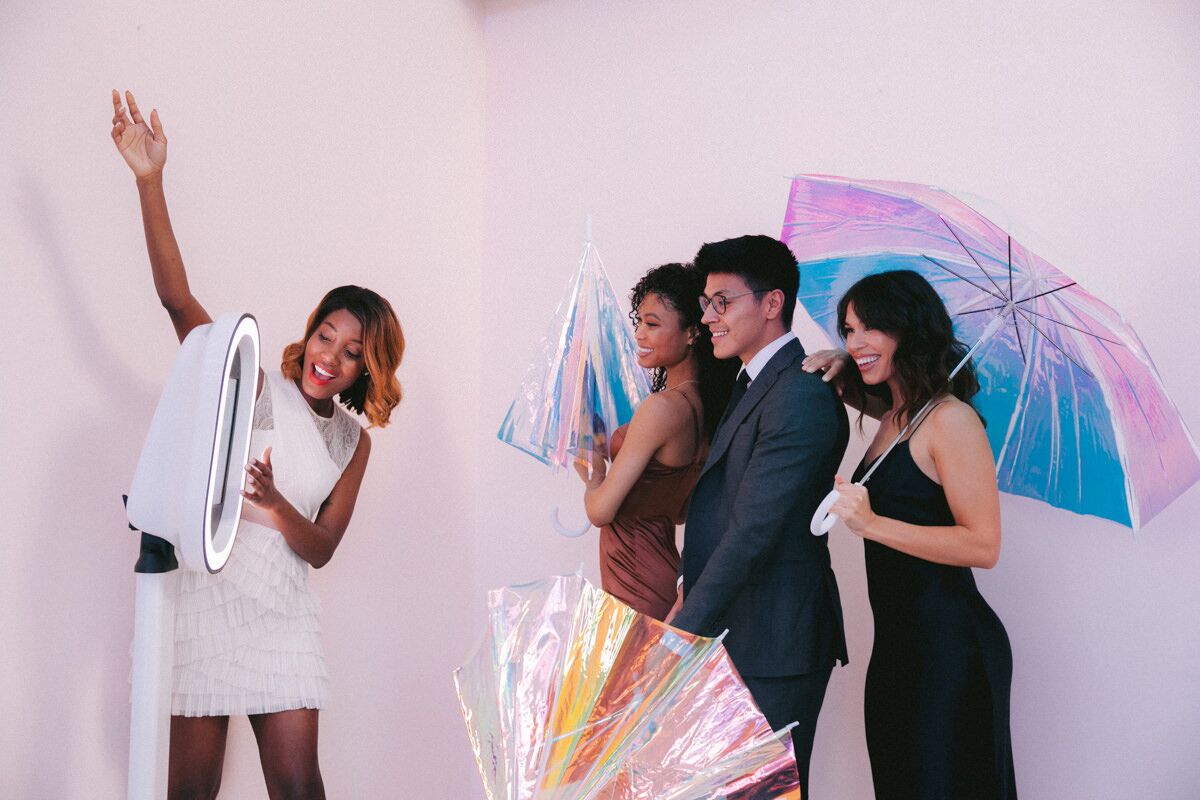 Book Weddings Like a Boss With These 5 Showstopping Trends
It's here!
It's the couple's special day, and it's sure to be unforgettable. Between the food, the ambiance, the music, and of course, the celebration of the couple's love (mostly the food, amiright), who could forget?
But what if you were able to combine your photo booth business with the most current, jaw-dropping wedding trends in the industry? It's a safe bet the day would be even more memorable - and you'd score future bookings!
Good news, you can do exactly that!
And best of all, it's easier than you think.
Customization
Customization is a great way to make your photo booth business stand out from the sea of competitors.
Offering customized services and add-ons such as backdrops and props are great, easy ways to increase your conversion rates. They may even land you a spot on a planner or venue's vendor list.
Guests Using the Salsa Photobooth
If you're part of the Photobooth Supply Co family and own our amazing Salsa booth, you'll have access to limitless possibilities for customizing your templates and photo galleries, too. 
Everyone likes feeling catered to, and a well crafted personalized design for each and every event will go a long way in impressing your clients and their guests.
Again, these are small and easy options that offer an incredible perceived value. That perception will ultimately win you more customers and more money!
Instagram Worthy
Are your photos, frames, props and backdrops Insta-worthy?
Does this even matter?
According to some of the most successful wedding and event planners, it matters way more than you think. More than ever before, young couples are doing their own research in preparation for their big day, and a lot of those hours spent searching go down on Instagram.
Curating a spotless, on-brand Instagram feed to help your business stand out is incredibly important.
Young couples tend to know exactly what aesthetic they're going for.
Make your Instagram feed beautiful and pleasing to the eye, and make sure your feed has a consistent vibe that helps you easily stand out from the crowd.
Your posts should be one-of-a-kind. This way, they appeal to a broader base of clients, but those clients know that you can customize your services to cater to their specific tastes.
Guests Using the Salsa Photobooth
Networking
In the event and photography industry networking is huge.
I mean like, really, really huge.
Making friends and new connections is the best way to meet new potential clients or get onto vendor lists. You should be making great first impressions with all of the guests and always be providing an A+ experience.
After all, you never know if the guest is getting married in a few months and is looking for a photo booth for their own wedding - be kind and genuine and show interest. If you want to learn more about customer experience, we've got a helpful article about How to Guarantee 5-Star Reviews - check it out!
It's important to remember that networking doesn't mean strictly talking business.
When you've arrived early at an event and your booth is set up and ready to go, look around. Do you see any other vendors or planners that look like they're struggling with something?
Offer to help them out. It'll allow you to introduce yourself - and make a lasting impression on them.
Sometimes it's the small things that have the biggest results in the end. 
Attendant Rolling Away the Salsa Photobooth Carrying Case
Another great way to network and meet new people is by attending networking events or trade shows, or getting in touch with local groups.
Places like your city's Chamber of Commerce or big events like The Cream Event are great opportunities to meet wedding and event planners. And since you have a photo booth, bring it along!
Showcase your booth at these events if it's possible. Not only will this let people see you in action, but your booth will be collecting phone numbers and email addresses of everyone who has used it.
This is an excellent marketing tool - make it work for you!
Meeting With Planners
When you finally meet some of these planners, whether at events or otherwise, don't be pushy!
Get their contact information and see if you're able to send an email to try and schedule a phone call or in-person meeting. This will allow them flexibility because they're just as busy as you are, and you're definitely not the only person who has reached out to them. 
If you're lucky enough to score a meeting with them, bring along your portfolio. This is essential!
You need to curate and rework your portfolio so it is clearly catered to whomever you are meeting with. It'd be a bad idea if your portfolio was 90% corporate events when you're speaking with a wedding planner.
Additionally, if the planner has a particular aesthetic that they specialize in, make sure your portfolio reflects a similar style. They're ultimately looking for a vendor that is a good match for the services they provide.
Guests Using the Salsa Photobooth
After The Event
The networking and relationship building doesn't stop after the event.
Make sure that if a vendor gave you the opportunity to shine at their event that you thank them for it. Handwritten thank you cards go a long way in showing your appreciation.
If you got along well with them, it also doesn't hurt to ask for a testimonial.
Testimonials are great opportunities for you to have reviews from credible sources that you're able to list on your website or social media.
And last, but not least, follow up!
Make sure that every few months you follow up with your contacts. It'll help keep you and your business fresh in their minds.
---
Want to learn more tips and tricks on how to have a successful photo booth business?
Check out our other blog posts and our 2018 Booth Summit videos where you can hear from real PBSCO Photobooth owners on how they've led their businesses to success!