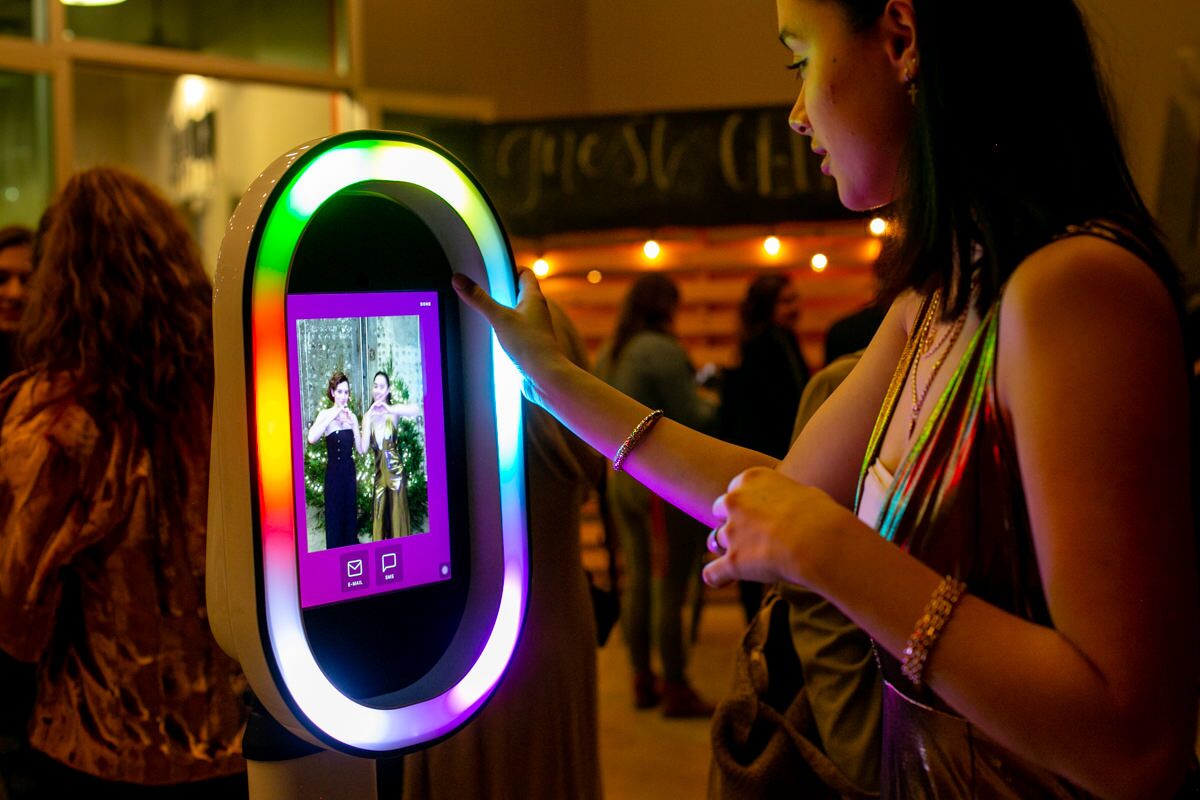 3 Unbelievable Ways to Score More Corporate Deals with Your Photobooth
You've built your photo booth business and you've had a ton of wedding clients, but you're ready to expand into the corporate world, right? After all, the corporate world is a great way to gain more consistent and high-paying clients. 
Who doesn't want that?
Today we're going to be diving into the world of corporate bookings and explaining some of the most important tips you need to know in order to succeed. 
Ready? Let's get started!
Corporate Event vs. Brand Activation
When getting started with events in the corporate world, it's important to know the difference between corporate events and brand activations.
Corporate events are simply social events that are held by a particular company. These could be fundraising events or holiday parties, but at the end of the day they're events that are put together by HR or the marketing team of the company.
Guests Using the Salsa Photobooth
On the other hand, we have brand activations. Brand activations are events that are supposed to drive consumers to act. They're not open to the public and are usually planned by a branding or marketing agency that is hired by the company.
Like we've mentioned, the idea behind brand activations is to drive consumers to act. Some examples are getting notable people to Tweet out their photos, share them on Instagram, or advertise that they're working with that brand in some way.
Brand activations also tend to focus on quality, not quantity. At the end of the day, companies are looking to see a return on their investment. If there isn't one, they're not likely to use you in the future. 
How to Get Into The Corporate World
Now that we've explained a little bit about what corporate events and brand activations are, you want to know how to get into that world of events. The answer is, actually, quite simple. 
Raise your prices.
Yes, you've read that correctly. Raise your prices.
Guests Using the Salsa Photobooth
Companies, especially during a brand activation, are looking to see a return on their investment. The higher your price, the higher your quality, or at least that's how they think.
When you have a high price tag for your corporate events it likely means that you have insurance, experience, and are going to provide a quality event that will give them a good return on investment.
It's weird, we know, but it's how it works. After speaking with some of our Salsa Photobooth owners, $1,200 has been the most common number they've used as a starting point for their corporate events.
If you do raise your prices and it doesn't work, you can always lower your prices again later. Play around with it and find your sweet spot.
Just make sure, however, that you don't get in over your head right away. If it's too much, say no. It's better to lose a booking than to create a bad reputation.
What You Need to Be Successful
A lot of what we're about to go over is good practice regardless of if you do corporate events or not. With that said, the following is essential when trying to land corporate bookings.
Functional and Good-Looking Website
So, like we've mentioned, having a responsive, functional, and good-looking website is important regardless of if you're doing corporate or "normal" events. But, it's even more important when looking for your first corporate booking.
A lot of times, especially in brand activations, there is a designated person who is planning the entire event. Your photo booth? It's just one small part of the entire event. So, if someone goes to your website and it takes longer than ten seconds to load, I can almost guarantee that they will leave your page and move onto the next.
Make sure your online presence is responsive and quick.
Blog Posts
Keep your blog updated. SEO isn't what it used to be and has changed a lot in recent years. To keep your website above the rest, you want to be continuously updating your website.
How can you do this, you may ask?
Blog posts!
Guests Using the Salsa Photobooth
If you're struggling to think of what to write, you could also post a new article every time you host an event. Even if the article has little text and only has a link to the gallery, it's still a blog post and you're still keeping your website up-to-date in the eyes of Google and other search engines. 
This is easy and it will help! Sometimes even more than paid advertising.
Get Photos of Yourself in Action
The next time you have a big corporate event, check with the planner if it's okay to have your own photographer there to take pictures of you in action. Doing this will give you images and videos that you can use to create a beautiful website or promotional video.
It may be expensive up-front, but it'll be one of the most worthwhile investments you could possibly make.
Custom Backdrops and Vinyl Wraps
Allowing companies to expand their branding onto custom backdrops or vinyl wraps is something you should be adding on to every booking. While a custom backdrop may cost around $250 to make and a vinyl around $150, you could easily sell each of them for $500 or more. 
These will make your photo booth business stand out from the rest, make your client incredibly happy, and take little to no effort. Plus, they're pure profit!
Microsites
For those who aren't familiar, microsites are small websites created solely for the purpose of displaying the gallery of photos or information about the event; like the Live Galleries offered with the Salsa app!
Microsites are a great thing to offer, especially to corporate clients. Not only will they feature the company's branding, but it'll also provide analytics for the company.
Never Say No
It's important that you never say no to a corporate client, even if it's something you don't normally offer. If you don't offer it, you can start or you can find someone in your area who does offer it and work with them.
Saying yes and offering everything you possibly can will help you stand out from the rest.
Salsa Photobooth
It's also important that you learn a variety of Photo Booth Software, including our very own Salsa Photo Booth Software, so that you're prepared in the event of special requests. There may be some software that allows certain features that others do not.
Do your research and be knowledgable. Again, this will set you apart!
---
And that's it! We hope that these tips help you score more corporate events and grow your photo booth business!
Want to learn more tips and tricks on how to have a successful photo booth business?
Check out our other blog posts and our 26-Episode Video Series where you can hear from real PBSCO Photobooth owners on how they've led their businesses to success!