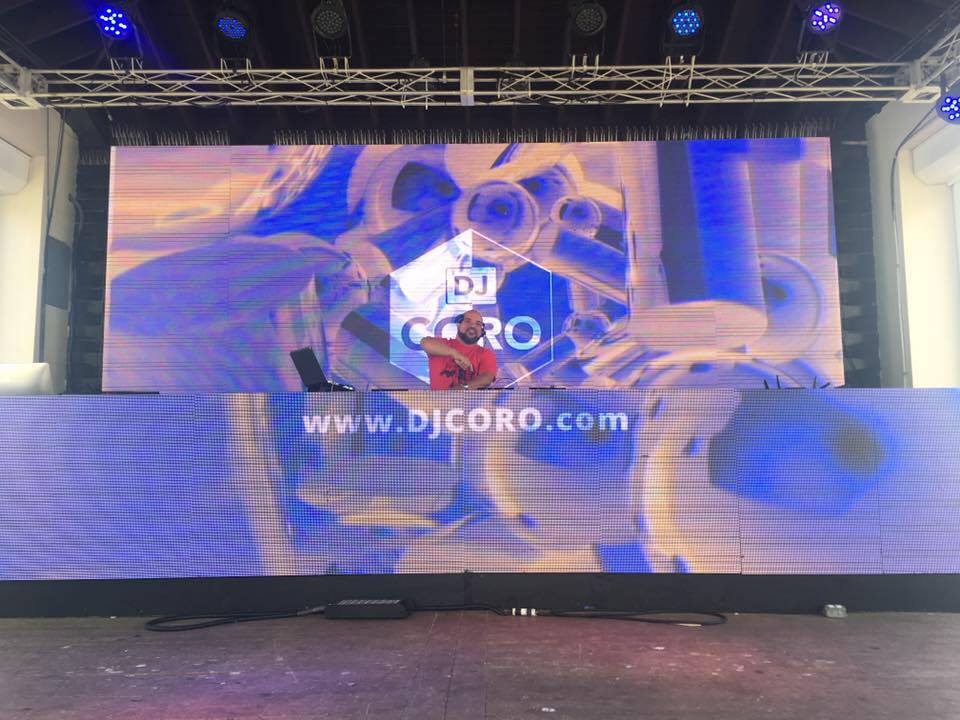 Owner Spotlight | Coro Almonte
Back in February, we hosted a Success Story Contest where we asked our Photobooth Supply Co booth owners to submit their stories. We wanted to hear about the incredible things that our PBSCO family has been able to accomplish thanks to their photo booth business and share their stories with the world.
One of those incredible stories that stuck out to us was that of Coro Almonte.
---
Coro Almonte has been a well-known DJ for over 20 years. But as any DJ knows, it can be a difficult business that demands a lot of your time.
With a wife and four-year-old daughter at home, Coro began to feel that he was missing out on quality family time during the weekends. He had tried to hire other DJs to fill in every once and a while, but due to his high-end clientele and them wanting Coro specifically, it just didn't work out.
Throughout the years, friends had suggested various photo booths, but due to their complicated nature and large physical size, Coro had always brushed it off. After all, he already had a van full of DJ gear to haul around.
That was until he found Photobooth Supply Co and the Salsa Photo Booth.
Coro was blown away by its small size and easy-to-use setup. Almost immediately, he saw the potential to increase his per-event earnings and finally get his weekends back with his wife and baby girl!
Coro finally pulled the trigger in November of 2019 and decided that family Thanksgiving would be the perfect opportunity to show it off.
And it was a hit! Everyone loved the booth and he even booked some low-paying events with family members! 

Coro and his family using the Salsa Photo Booth
After seeing the immediate interest with his own family, Coro's wife got to work starting an Instagram, Facebook, and LinkedIn page for the booth using the PBSCO provided marketing materials. Within a matter of two days, they had already received their first lead with an event planner in the area.
[My wife has] also been able to use our Salsa Booth to list, build, and market her own design business at local networking events! This booth is a freaking gold mine!
Coro Almonte
And since then, it hasn't slowed down.
Coro has hired a photo booth attendant and has seen that the photo booth practically sells itself! It's finally allowed him the freedom to say "no" to low-paying DJ events in order to spend more time with his family.
As a matter of fact, the original plan was to pay off their initial investment in the first few months. Well, after starting officially in January of this year, they've already completed paid off the photo booth and then some!
Wow!
But for Coro, the photo booth has helped more than just financially. While he's passionate about playing music, it's been a difficult hustle and he started to become burned out. The Salsa Photo Booth has allowed him to free himself from smaller, low-paying events, and allowed him to reignite the passion and love he has for DJing.
Photo boothing and seeing it's potential for my DJ Business and my family has totally gotten me out of that slump and reignited how I feel about my business!
Coro Almonte
We here at Photobooth Supply Co are amazed at what Coro was able to accomplish with a PBSCO Photobooth. We wish him the best of luck with Designer Photo Booths and we're certain that he'll continue to grow in 2020.
Congratulations!
---
Make sure that you subscribe to our newsletter or follow us on Facebook or Instagram to hear when we have future contests as we'd love to hear your stories!
Has this story inspired you? Are you interested in one of our booths?
Book a demo with one of our photo booth strategists today to learn more information!
Otherwise, check out our other blog posts and our 26-Episode Video Series where you can hear from real PBSCO Photobooth owners on how they've led their businesses to success!