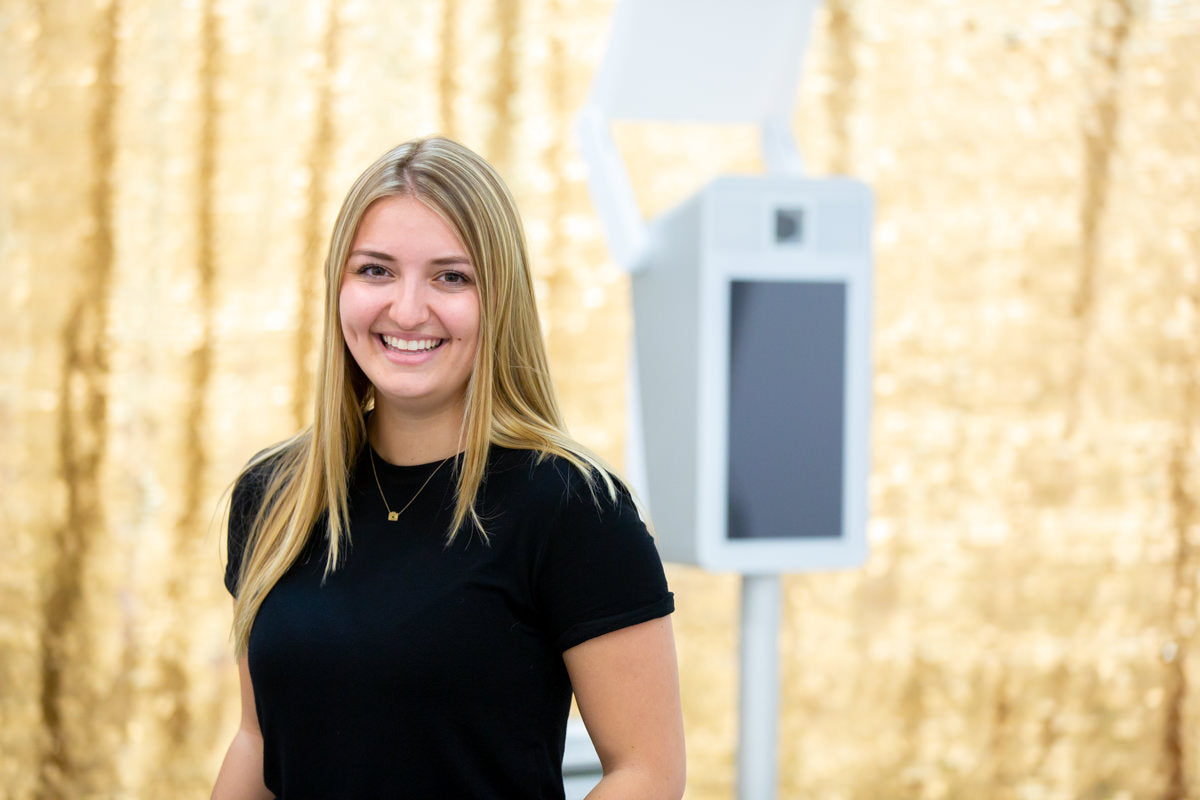 Owner Spotlight | 19 Year Old Lexine Menard

Fresh out of high school and all of nineteen years old, Lexine Menard took a courageous step toward starting her own business. After spending her high school years working two to three jobs and over a year in college, Lexine wanted more in life. That was when she discovered Photobooth Supply Co and found the opportunity to fuel her entrepreneurial aspirations.
Lexine previously worked for a photobooth rental service, but found their booth to be lacking in visual appeal and easy of use, which led to a poor experience for her running the equipment, but more importantly the guests who were using the booth.
"I thought it was very complicated, it wasn't sleek," Lexine explained. "The clients were not that happy with the service and I felt terrible being the attendant offering this service to people."
In 2017 Lexine fell in love Queso, the Southern California company's latest booth, during its unveiling at the annual Photo Booth Expo (PBX) in Las Vegas, Nevada.
I actually saw the reveal of Queso at PBX and I'm like, that's it! That's the one I want.
Lexine Menard
Lexine's experience in the wedding photography industry undoubtedly gave her a leg-up on being successful with a photobooth, however starting her own business was a restart for her career. "I was lucky to already be in the wedding market. So it was a really easy upsell to my clients. It was just another service I was offering."
However, Lexine would argue that you don't have to be a photographer to start running a photobooth business. "If you're not in the industry and don't know what you're doing," Lexine stressed "I would truly recommend trade shows."
In fact, her first booking came from attending a trade show just days after receiving her booth. "I had the booth for three days before the trade show," Lexine said. "we had just learned the booth and then [we] still got bookings from it because people walked by and were just blown away by just the look of it."
Trade shows provide incredible opportunities for various industries, vendors, and services—especially photobooths—to make an impression and draw people in. Queso's unique visual appeal gave Lexine an advantage and attracted attendees to her.
"My initial goal was just to the booth every Saturday. That's it. So I was like, okay, an extra two to three k a month, I'd be happy with that," Lexine explained her first days of running the business.
I'm going a lot bigger than that and the goal guide attained pretty quick too, so it kind of exploded.
Lexine Menard
Now two years later and three Queso booths in her arsenal, Lexine has expanded her business beyond her wildest dreams. Not only had she improved her own life, but she has the power and ability to improve the lives of others.

"It allowed me to employee people. That's the best thing in the world—to have a team that you support," Lexine said. "We [hired] a lot of students. We're paying off their school debts, too"
The success from this venture freed Lexine from the rut of working two to three jobs and gave her the option to leave school and find a road to financial independence.