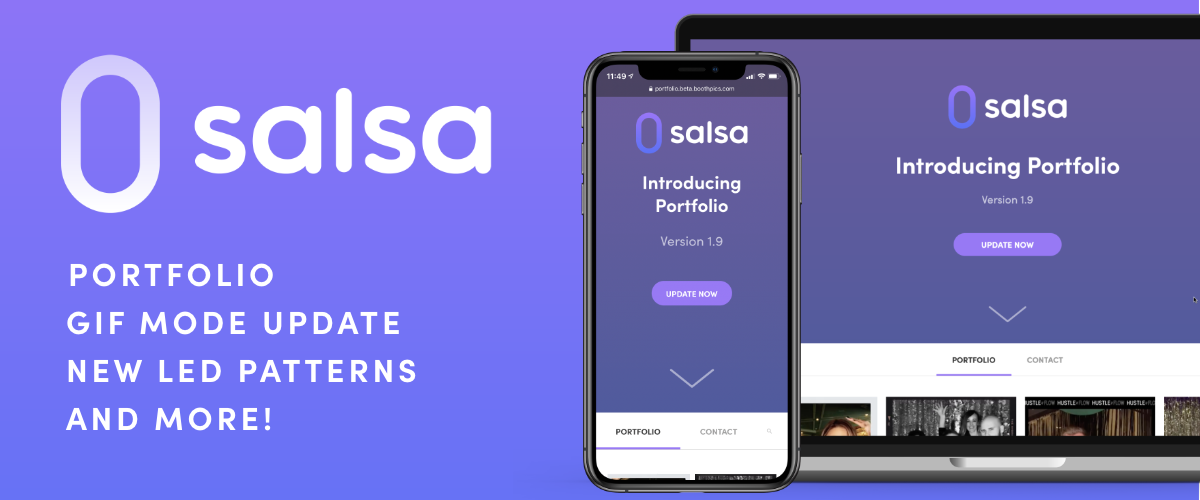 Salsa App 1.9 Update: Portfolio, GIF Mode Update, New LED Patterns and More
Photobooth Supply Co's latest Salsa update version 1.9 is here with Portfolio! This is a major feature that will push your business to the next level.
Not sure where to display your best events to showcase to future clients? Or do you find having to import and organize all of your captures on to your own website? Then Portfolio is for you.
With the power of Portfolio, both Plus and Pro members can display their best Live Galleries in one place using the Salsa Web App. Consider this one-stop marketing tool your new secret weapon to impressing your clients.
But wait, there's more!
Event Cover Photo
Does the cover image of the Live Gallery not represent the best of the night? Select your best shot and set it as the Event Cover to rep how killer your event really was.
---
GIF Mode Updated
You can now adjust the time in between each shot, giving guests time to set up their next stunning (or hilarious) pose.
---
Bluetooth Mic Support
Pair your favorite Bluetooth microphone to record greetings, testimonials, or anything else your guests can think of in Video Mode (and enjoy their blooper reels!).
---
Audio Recording Settings
Don't have a Bluetooth mic and don't want to record any audio in Video Mode? Simply disable audio recording from the Video Mode settings.
---
Video Length Expanded
Speaking of videos, you can now adjust the length to anything from 2 to 15 seconds in length.
---
New LED Patterns
Over ten brand new LED patterns added to customize your Salsa Booth LED ring!
---
Automatic LED Reconnect
Sudden power outage at the venue? Someone accidentally unplug the booth? Or simply turning Salsa off for the night? Now the LEDs will automatically reconnect to keep the show going!
---
Improved Sharing & Survey Stats
Salsa now records and reports the exact time of capture and sharing so that you can better understand the most popular times for your photo booth. Better data means smarter strategies!
---
Device License Memory
Forget to sign out before reinstalling Salsa? Now Salsa will remember which iPad you previously signed into so that you no longer need to remove the device from the account management to sign back in.
Update is available now in the App Store!