Article: How Much Does It Cost to Buy a Photo Booth?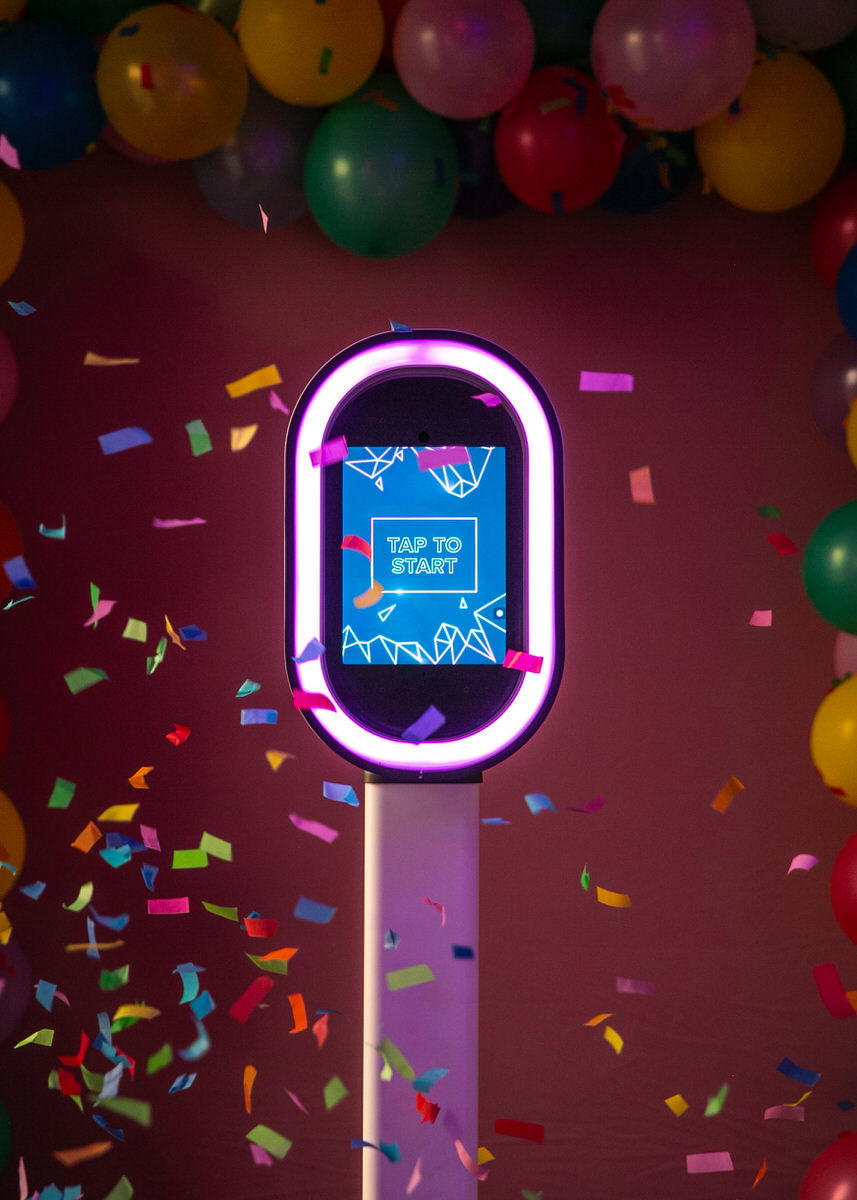 How Much Does It Cost to Buy a Photo Booth?
If you've been to a wedding or social celebration in the past several years, you've likely familiarized yourself with the pop-up photo booth. Photo booths have become incredibly popular in recent years because they offer a fun way to make memories that last forever, all from a convenient touchscreen display during your live event. Due to the popularity of the photo booth industry, many aspiring entrepreneurs are looking to dip their toes into the industry.
Today, we are going to discuss how much it costs to buy a photo booth as well as some of the other expenses you might incur along the way!
Different Types of Photo Booths
For individuals looking to leap into a surging industry, photo booth rentals offer an exciting avenue for savvy entrepreneurs. Much like other businesses you might consider exploring, entering the photo booth industry will require investing in the right products. Due to advancements in photo booth technology, there is a wide variety of photo booth products available at different prices. Before you decide to purchase a photo booth for your business, it's important to understand the differences between some of the most popular photo booths on the market.
Mirror Photo Booths
Similar to a full length mirror that allows you to see a view of your body from head to toe, mirror photo booths allow guests to use a tall reflective touchscreen to capture and customize full-length photos. Prices for mirror photo booths range from $5,000-$10,000 depending on features and hardware.
DSLR Photo Booths
You may have heard of a DSLR camera before, a popular camera among photographers. This type of camera uses a mirror mechanism to reflect light from the lens to the viewfinder to capture high-definition photos. DSLR photo booths have a DSLR camera placed inside them which results in amazing image quality. Individuals can expect to pay at least $6,000 to $10,000 for a DSLR photo booth. 
iPad Photo Booths
iPad photo booths are a popular and versatile option. These photo booths work by placing an iPad into a photo booth kiosk shell. Guests use the iPad to take selfies, send them to their phones, and share their photos on social media. With quick set-up and affordable prices, iPad photo booths are a great option for business owners. These photo booths begin at $3,000 and will require purchasing an iPad and photo booth software separately.
Explore iPad Photo Booths From Photobooth Supply Co
Selecting your first photo booth kit will require some time to evaluate different photo booths. If you're looking for an affordable way to enter the photo booth industry, consider purchasing an iPad photo booth. Photobooth Supply Co specializes in iPad photo booths with a variety of features.
The Starter Package - $2,999
Starting at just $83/month with approved financing, individuals can get started with an all-in-one photo booth kit. This package includes the Salsa Booth, a Carrying Case, Marketing Materials, and Sample Contracts required to work at an event.
Pros - This package includes everything necessary to host a great event. Salsa Booth is one of the most dynamic Digital Photo Booth packages in the industry.
The Essentials Package - $4,799
If you want to take your photo booth rental services to the next level, consider upgrading to the Essentials Package offered by Photobooth Supply Co. This photo booth features all of the aforementioned items as well as:
Salsa Care - Extended Warranty + 1 Year Free

Atlas Backdrop + Stand

Branded Promotional Videos For Your Booth
Pros - This package upgrades the starter set while including the services and extra items necessary to continue operating your business for years to come.
The Growth Package - $8,999
Ready to put your new career into focus? The Growth Package developed by Photobooth Supply Co supplies clients with everything they need to set up two entire photo booth studios for events. This package allows buyers to build their business today and into the future with additional marketing materials.
Pros - Complete package prepares entrepreneurs to run two entire photo booth sets at a time, allowing for growth within the business.
Commonly Asked Questions
Establishing a photo booth business can be in turn exciting and intimidating. As an entrepreneur, photo booth owners have the ability to create a dynamic level of revenue depending on the number and style of events that they cover. Before growing your business, here are a few questions you might want to consider asking and answering!
How Much Can I Earn? - A photo booth rental business offers earning potential capped only by the number of events and clients that you undertake. Take some time to reset your entrepreneurial focus to make the most out of your endeavors!
What Other Expenses Should I Consider? - Establishing a photo booth company requires a package of equipment as well as the ability to get to and from your events. A working vehicle with accommodating trunk space will be an ideal companion on your photo booth adventure.
What Kind of Events Can I Host? - Your Photo Booth Package from Photobooth Supply Co will accommodate events ranging from weddings and birthdays to corporate celebrations and personal parties. Your package will be ideal for any event where photos need to be taken!
Establishing any business requires patience, practice, and a little bit of support. The team at Photobooth Supply Co is always ready to help guide their clients on an exciting and adventurous photo booth journey.
Learn More at Photobooth Supply Co!
Established in 2010, Photobooth Supply Co has turned into your one-stop shop for photo booths and photo booth accessories. Offering clients the chance to take advantage of their turnkey businesses, Photobooth Supply Co specializes in providing their clients with the tools they need to succeed.
Clients Shopping at Photobooth Supply Co will enjoy
To learn more about buying your first photo booth, head to Photobooth Supply Co and browse our iPad photo booths for sale now!